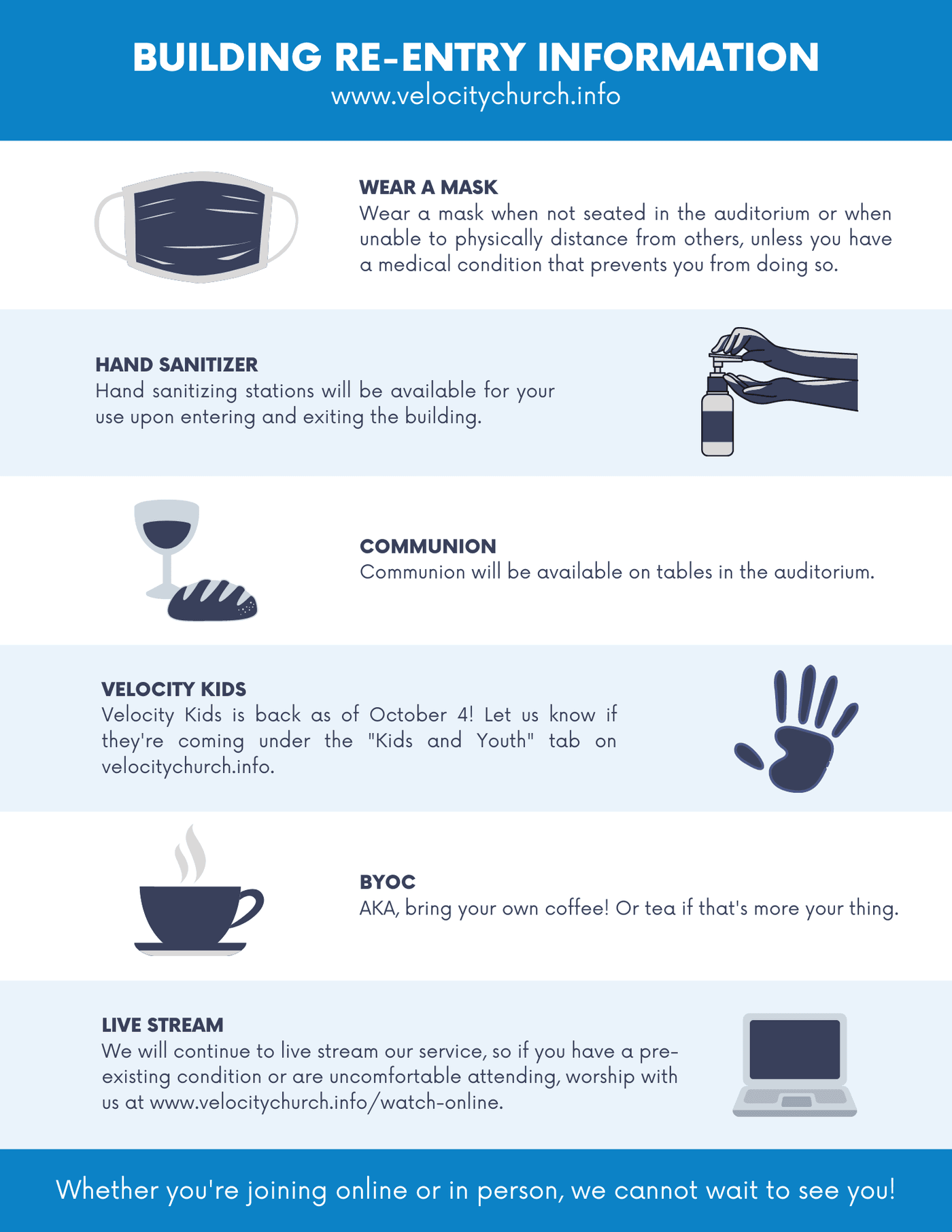 Re-entry Sunday, August 2 details and information.
Hey Velocity Church, as we move closer to August 2 and Re-entry Sunday, we need your input to be sure we're planning appropriately. We've been looking forward to this for a long time, and we've been preparing for a long time as well. And while things will look different as we begin to regather in person––with social distanced seating, hand sanitizing stations, masks, and no buckets to pass––we'll still be worshiping for the same audience of One both in person and online.
Throughout all of this there's been only one thing that has compelled us and that is love. Even more specifically, the love for our neighbor modeled for us by Jesus. So while some of why things will look different will be because of requirements for gatherings, love for others will be our motivation. I can't wait to see you in person, but I also know that all will not be ready to worship in person yet. And that's ok! We'll continue to worship together in spirit and in truth, and I'll continue to be available for socially distant prayer, conversation, and Bible study.
Check out the information and questions below as look forward to starting to re-enter the building Sunday, August 2.
Helping people find Jesus and love God,
Rob
In Person Worship at Velocity during Phase 3:
Note: If you have a fever or have been exposed to Covid-19 please worship with us online until after the appropriate self-quarantine time.
Will there be socially distant seating? Yes, the auditorium will seat 60 people with socially distant segments for family's to sit together. Depending on the responses we get below, we may have more than one service time to accommodate those who want to worship in person.
Will there be Velocity Kids? Not for now. We will continue to monitor how things progress for school and childcare in Henrico County. Keep in mind that we've shortened our service time to account for kids We'll have activity sheets for your child on Sunday mornings, and Virtual VBS for the month of August so be sure to look out for the details!
Will there be coffee? Not yet. BYOC for now, but it will be back soon.
Will there be communion? Yes! Every week at Velocity we'll take communion, but we won't pass trays, you'll be able to pick up your communion from tables in the auditorium. And it will be prepped by volunteers wearing gloves and a mask.
Will I need to wear a mask? Yes (unless you have a health condition that precludes wearing one); if you don't have your own, we'll have a a limited number of disposable masks available. We're asking that you wear your mask on entry, through our worship in song, and on exit. (Requirements + loving neighbors).
Phase 3 Re-entry Update
Hey Velocity family, as Virginia moves in Phase 3 we have planned out our reentry Sunday for in-person worship to be:
August 2!
This will look different from our previous "normal."
When we formulated our reentry plan months ago, Phase 3 was thought to look a bit different than what it does now, and as we mentioned previously, we are making adjustments as necessary. (For example, we will not have Velocity Kids classes during the month of August, but we will have an activity sheet specifically for kids while they sit with their family during our shortened worship time).
Over the next couple of weeks we'll put final pieces in place and we'll give updates along the way. (For example, with social distanced seating necessary we'll be sending out a survey to ask about your plans to join us in person so that we know how many services to plan for.)
While we can't wait to see you, if you don't yet feel comfortable joining us in-person or have health concerns, know that we'll also be continuing our online services and we want to know if there's any way we can help or serve you so be sure to let us know!