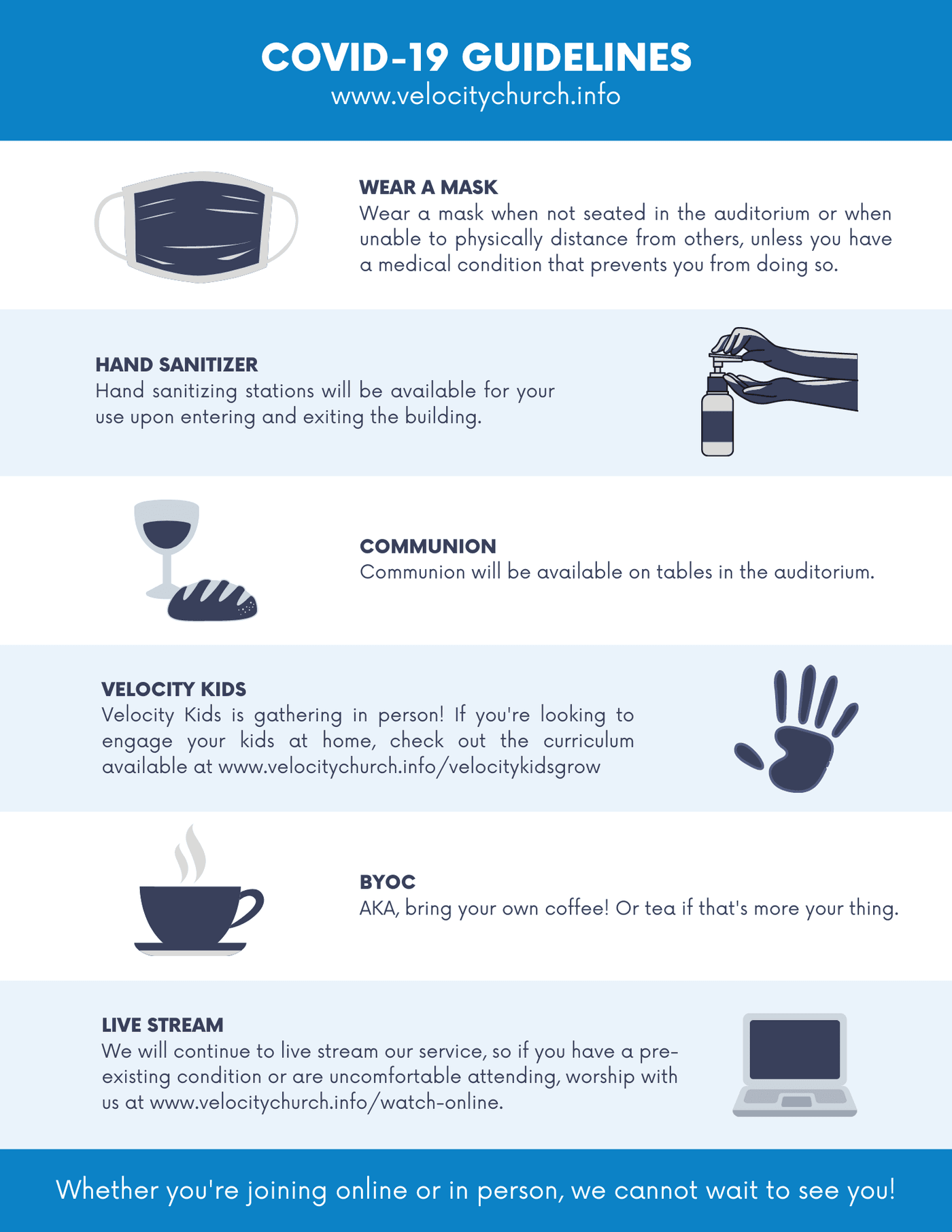 COVID-19 Guidelines
Throughout all of this there's been only one thing that has compelled us and that is love. Even more specifically, the love for our neighbor modeled for us by Jesus. So while some of why things look different is because of requirements for gatherings, love for others is our motivation. I can't wait to see you in person, but I also know that all will not be ready to worship in person yet. And that's ok! We'll continue to worship together in spirit and in truth, and I'll continue to be available for socially distant prayer, conversation, and Bible study.
Check out the information and questions below regarding precautions we are taking.
Helping people find Jesus and love God,
Rob
In Person Worship at Velocity:
Note: If you have a fever or have been exposed to Covid-19 please worship with us online until after the appropriate self-quarantine time.
Will there be socially distant seating? Yes, the auditorium seats 60 people with socially distant segments for family's to sit together.
Will there be Velocity Kids? Yes! If you are worshiping from home and want to engage your kids, you can go here to view the Velocity Kids curriculum.
Will there be coffee? Not yet. BYOC for now, but it will be back soon.
Will there be communion? Yes! Every week at Velocity we take communion, but we don't pass trays. Instead you'll be able to pick up your communion from tables in the auditorium. And it is prepped by volunteers wearing gloves and a mask.
Will I need to wear a mask? Yes (unless you have a health condition that precludes wearing one); if you don't have your own, we have a a limited number of disposable masks available. We're asking that you wear your mask on entry, through our worship in song, and on exit. (Requirements + loving neighbors).